Urgent Actions Needed to Rebuild Pride in the Profession
This summer, WeRPN released its annual survey report, "The State of Nursing in Ontario: A 2023 Review". The report helped highlight the disturbing reality in healthcare by collecting and analyzing nursing experiences over the past year. The province is facing an escalating nursing crisis characterized by ongoing staffing shortages, increased workloads and a deteriorating sense of pride among nurses. These challenges are not only taking a toll on nurses but are also directly affecting patient care in Ontario.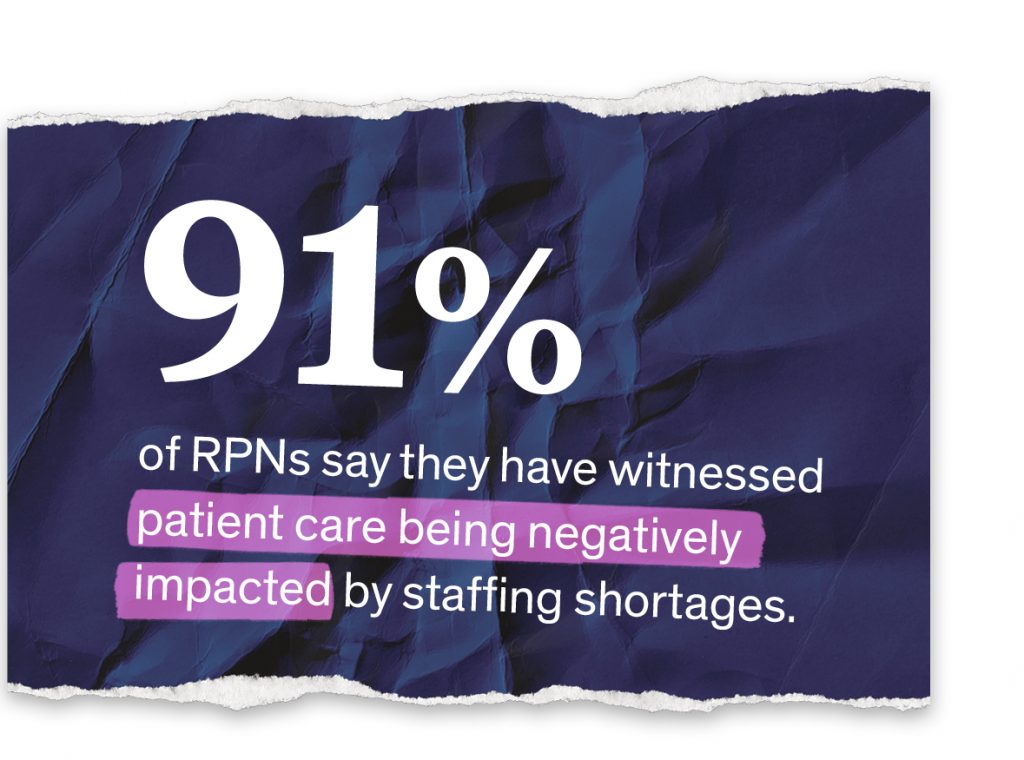 Patient Care is Being Compromised:
The survey's findings are cause for alarm, with 91% of nurses directly witnessing negative impacts on patient care due to staff shortages. Among these nurses, 83% see increased wait times for patients, and 70% have noted that it has gotten harder for patients to receive the necessary care, such as surgeries and diagnostics. An alarming 62% of nurses say they've directly seen how delays in such assessments have resulted in a decline in patient health.
Nurses are expected to take on greater patient loads despite not having enough time and resources to meet growing care needs; 92% say their workload has increased over the last few years. As a result, 79% of impacted nurses experience ethical conflicts, knowing they cannot deliver the level of care they are educated to provide. This is the third year that nurses report an increase in their workload – the figure is now higher than it was at the height of the pandemic.
Nurses Feel Moral Distress With No End in Sight:
This increasingly unsustainable environment is taking a toll on the mental health of nurses. Workplace pressures have intensified, leading to an increase in workplace stress and feelings of moral distress. Shockingly, 78% of nurses have experienced a breaking point related to their job this year, and 89% say their mental health is suffering due to workplace conditions.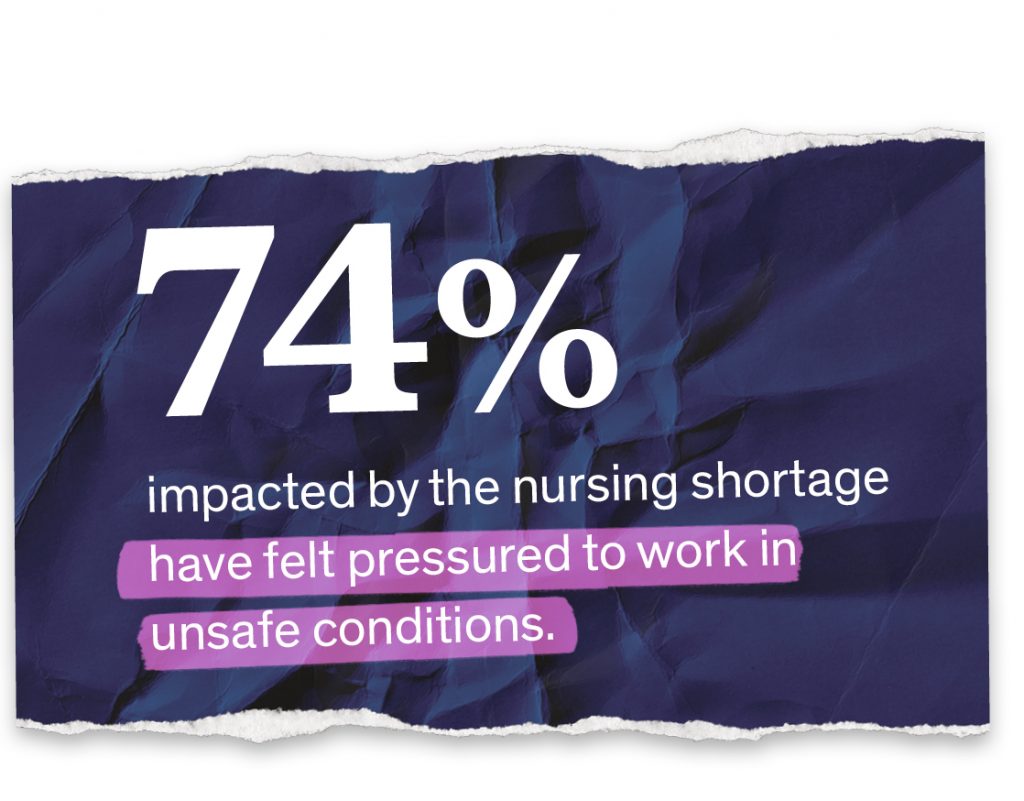 Workplace Pressures Continue to Take a Toll:

An overwhelming 91% of nurses say their daily experiences in the workplace have become significantly more stressful, and almost all (97%) say working short-staffed has negatively impacted their workplace culture. As a result of staffing shortages, 91% cannot get their shifts covered, 82% cannot take time off, and a third (31%) do not feel they are able to decline shifts without consequences. Further, 63% of all nurses surveyed have experienced or witnessed increased workplace violence against nurses, and 74% impacted by the nursing shortage have felt pressured to work in unsafe conditions.
Pride in Nursing Is Eroding:
In 2020, during the height of the pandemic, 67% of nurses expressed overwhelming pride in being part of the profession. Sadly, three years later, this figure has dramatically plummeted to a mere 31%. The morale and intrinsic motivation of 72% of nurses have significantly worsened in the past year, signalling an urgent need for change.
Growing Threats to the Profession:

The impact of the nursing shortage is far-reaching, with Ontario's healthcare system experiencing a significant loss of care capacity. Nurses are increasingly seeking alternatives to frontline patient care by moving away from the province or leaving the profession altogether. Over 62% of nurses are contemplating leaving their roles, and 86% of those intending to leave plan to do so within the next two years.

WeRPN's Call for Action
In response to the crisis, WeRPN has issued an open letter to the government urgently calling for the following four key actions:
1. Legislate Manageable Workloads
Standardized nurse-to-patient ratios must be established to reverse the decline in patient care quality and ensure the safety of nurses in the workplace.
2. Prioritize Retention with Growth Opportunities
Streamline education to support experienced nurses seeking career expansion and provide more opportunities for professional development.
3. Establish Professional Compensation
Offer fair and professional compensation for RPNs that recognizes their knowledge and skills and aligns more closely with their RN counterparts.
4. Guard against Cost Inefficiencies and Privatizing Healthcare
Reduce reliance on for-profit nursing agencies by creating more strategically planned full-time nursing positions.
The nursing crisis in Ontario requires immediate attention and action. The well-being of nurses and the quality of patient care are at stake. Ontario can rebuild pride in the nursing profession by addressing ongoing staff shortages, providing adequate support, and enhancing compensation and working conditions. The future of healthcare in the province depends on decisive measures to retain and support its dedicated nursing workforce. It is time for the government to act and secure the future of nursing in Ontario.
To read the full report and sign our open letter visit damagereport.ca