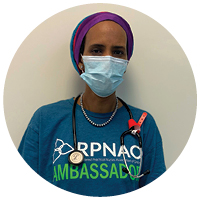 The story of Halimo Elmi's professional journey spans two continents and has several inspiring chapters.
Haimo attended medical school in Somalia for three years, but war and strife in the country prevented her from finishing her education
When she arrived in Canada, she opted to continue her education in nursing at George Brown College. Over the course of her 20- year career, Halimo has worked in palliative, complex continuing care, cardiac, transplant and other departments. She currently works part-time at Sunnybrook Hospital's Cardiac Rehabilitation and Amputee units, as well as at Mackenzie Health in the hospital's Stroke/Medicine and rehabilitation departments.
Halimo is also a WeRPN Ambassador.
"I chose to become a WeRPN Ambassador because I wanted to be part of a professional affiliation that would allow me to be visible at my workplace and have a voice as well," Halimo said. "The Ambassador's role has allowed me to showcase my leadership skills and share the benefits of a WeRPN membership with my co-workers."
Whenever Halimo wears her "WeRPN Ambassador T-shirt" to work, she said she invariably gets stopped by other RPNs who want to know all about membership benefits. Halimo says she's always happy to chat and share her experiences with them.
Halimo's career has been marked by awards, accolades, and recognition since she started in nursing. In 2019, she was nominated for a Nursing Hero award organized by Hospital News, one of Canada's leading health-care newspapers.
Additionally, she's a Hand Hygiene and Wound Champion at her workplace. As part of the role, select nurses or "champions" who sit on a committee have to maintain an impeccable standard of infection control. Her duties include educating other staff members and conducting periodic hand hygiene audits across various departments.
Halimo's career as a nurse has been fulfilling.
"I have a deep sense of gratitude that I am able to help others," Halimo said. "There are several benefits of a nursing career: there are no limitations to how far you can go, and it's a rewarding career that allows me to be compassionate and caring towards those that are in need."
In addition to taking on leadership roles, both within her organization and outside, Halimo also prioritizes finding time to mentor other nurses.