A Pan-Canadian team of academic researchers and RPNs is implementing a pilot project to safeguard the health of residents and curb future outbreaks at two long-term care (LTC) facilities in Ontario.
The team will apply a proven intervention technique known as PIECES that integrates physical, intellectual and emotional health while maximizing individual capabilities for quality of life, the living environment and social concepts, including a person's beliefs, culture, and life story to provide holistic person-centred care.
The initiative, funded by a consortium of agencies across Canada, will be piloted at Copper Terrace in Chatham, Ontario and Vision '74 Inc. in Sarnia, Ontario.
This new virtual intervention will engage all care team members, including the resident, family members, registered practical nurses, and other health care providers. The research project will focus on three promising practices: the presence of family, people in the workforce, and planning for COVID-19 (or any pandemic) and non-COVID-19 care.
The approach hinges on understanding the complex care needs of older adults to build on strengths. The primary objective is to put residents at the centre of care planning.
Team members will study barriers and enablers and document residents' well-being, health outcomes, and isolation levels in the hopes of developing new ways to cope with future outbreaks. The project also seeks to foster engagement among the resident and family members and bolster the resilience of registered practical nurses providing health care.
Q&A with Jacqueline Ripley, RPN and Melissa Babcock, RPN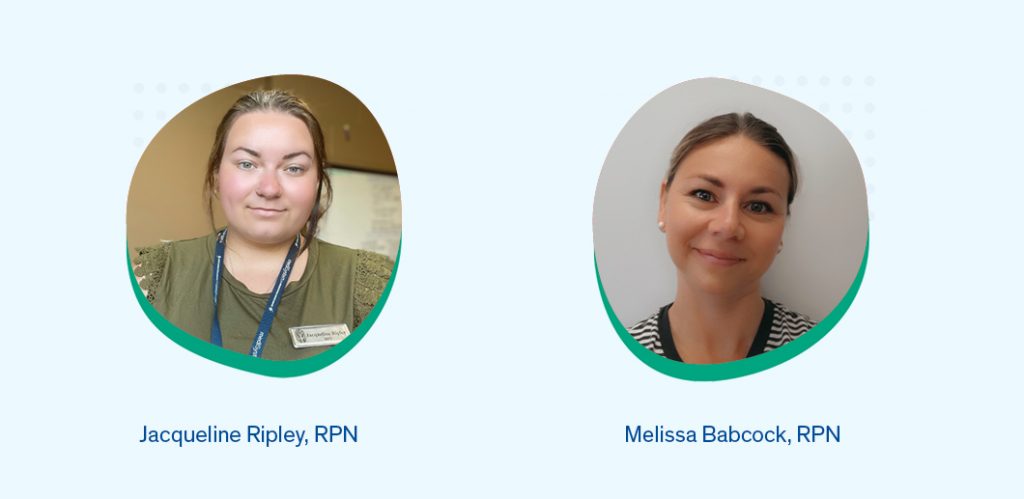 WeRPN connected research team members and RPN Champions Jacqueline Ripley, RPN and Infection Prevention and Control Lead Nurse with Cooper Terrace and Melissa Babcock, RPN, Behavioural Supports Champion, Resident Assessment Instrument – Minimum Data Set (MDS RAI) Lead and Quality Improvement Coordinator at Vision '74 to learn more.
WeRPN: Why does the PIECES project interest you?
JR: I believe it is important to look at the whole person and involve the family as much as possible in care, especially during these hard times. Unfortunately, during the pandemic, the restrictions of visitors and being away from family has had a negative impact on many residents. As nurses, we have seen a heightened number of behaviours likely related to the social isolation we have all gone through.
MB: I have been a BSO Champion at my organization since the program started.  Our internal BSO team was looking to adopt many of the core competencies in the PIECES framework, so it was a natural fit for me to participate in this project. Being involved in this project allows me to collaborate with researchers and educate our frontline staff on this new virtual approach to PIECES. Overall the project is a great quality improvement project incorporating families, residents and staff.
WeRPN: What's the objective of the project?
JR: This project is intended to support the development of appropriate care plans specific to the resident using the PIECES framework. To do this, it is important to collect all information regarding the resident and their past that might be relevant and impact their care. Visitor restrictions have made it harder to keep in touch with family members regularly over the past year. Implementing virtual PIECES will allow us to have the family member with us at the bedside to complete the care planning to the best of our ability.
MB: I hope this project will promote organized team collaboration between families and the care team using the PIECES framework to collect the resident-specific information navigate appropriate assessments. For the year, we will be examining the barriers and enablers to implementing the virtual PIECES approach. We will also be looking at the impact on resident well-being, health outcomes, and isolation levels in the hopes of developing new ways to cope with future outbreaks.
In the end, I hope that it will help foster the RPNs' confidence to treat several different behaviours in a holistic approach and that we can share our findings more broadly across the sector.
WeRPN: Why do you think it's important to have RPNs involved in research?
JR: RPNs offer a first-hand perspective. We are on the floor working with every resident. We view the heightened behaviours and work at de-escalating them every day. Without the RPN perspective, I am unsure how easy it would be to implement this project and collect valuable data.
MB: Many RPNs working on the frontlines are leaders, advocate and promote optimal care for their residents. Involving RPNs in research projects provides nurses with the time to better understand certain aspects of health care, help encourage change and deliver a positive impact for residents.
WeRPN: What stage are you currently at?
JR: Seven RPNs across our facility, including myself, recently completed the PIECES training via Zoom. To date, we have had one meeting with all seven RPNs to discuss how to implement our PIECES training throughout the home.
MB: Currently, we have trained six other staff in the virtual PIECES approach. We recently connected the RPNs who participated in the PIECES training to discuss how best to implement PIECES in our current practice setting.  We are now exploring ways to collect PIECES information for our LTC home and study how to effectively use the PIECES framework. We are planning on involving residents, staff and families to examine the impacts.
WeRPN: What are some of the lessons you've learned so far?
JR: I have learned a lot from attending the regular project meetings. I never realized how much effort and time it took to complete a research project of this scale. It has been interesting to see how much work and collaboration goes into a project like this.
MB: I have learned a lot about what goes into a research project, and it's time to make it successful. I have had the privilege of being involved in the discussions regarding scoping reviews, reviewing surveys and plans for data collection. The research team has been diligent in ensuring family, staff and residents are engaged in the research project.
WeRPN: What are some highlights of your career as an RPN? And how does this project fit into that?
JR: I have been an RPN for three years and have worked at Copper Terrace for the last two years. My favourite aspect of nursing is direct patient care and providing the best possible care to all the residents I care for. I think the implementation of PIECES virtually is a valuable part of being able to do this and to be able to better collaborate with care partners and the resident.
MB: I have worked at Vision for the last 18 years and watched it evolve as LTC has continued admitting more complex residents. Over that time, I have had the chance to wear many hats, whether it was an admitting nurse, configuring Point Click Care documentation, completing MDS RAI assessments, holding care conferences, providing Behavioural Supports or working on the floor. These experiences have given me insight into all of the different aspects that contribute to resident-centred care. And it's given me an appreciation of the importance of team collaboration. At Vision, the quality of care is always at the forefront, and we are constantly looking at ways to expand our knowledge to improve resident care. I am optimistic that this project will help us do that and that the findings can be shared across the sector to enhance the safety and quality of resident care.