Opportunity is everywhere with an education in practical nursing. We talked to nurses who have used their nursing education and experience as the launching point to many different careers.

While the careers of these RPNs are diverse, there's one thing they have in common: they all believe in seizing an opportunity when it arises, and the need to never doubt yourself.

An Innovator
Medha Saraiya, RPN
Founder and CEO at ConnexHealth Inc.
'There has to be a better way.'
That's what innovator Medha Saraiya said to herself when she was a PSW supervisor and saw the discrepancy between what clients were paying for services and the amount PSWs were earning – which was sometimes less than minimum wage.
She had elderly parents at the time, and realized that if one of her parents needed private care services it would cost as much as $160,000 a year – and she couldn't afford it.  She realized the system was broken.
In 2018, Medha conceptualized ConnexHealth, a company that uses artificial intelligence to connect patients with affordable, reliable and pre-vetted care. The site was up and running in February, 2020.
A month later, the pandemic hit, and Medha found herself having to alter the company's offerings. Innovation was again borne out of necessity.
"At that point, all home care came to a standstill. We could not put people in people's homes just because of safety and security. So we started doing ABA therapy virtually. We started doing pharmacy deliveries. And these are some of the services ConnexHealth continues to offer today."
While she knew very little about the field when ConnexHealth launched in 2020, autism therapy is one of the company's largest service offerings on the site, which today serves the Great Toronto and Hamilton area.
Being agile and able to pivot the business was something Medha credits to her nursing school experience. She was a mature student, and began her practical nursing education after she had married and had children.
"Going back to school was a great lesson in time management, resource management, and skill management for me. This helped me with the business as well, because we actually got ConnexHealth up and running on a very small, shoestring budget," she says.
Key to getting ConnexHealth off the ground was the right partnerships. While nursing was her second degree, Medha didn't have a computer programming background. Before nursing, her education was in art.
So she partnered with Durham College's artificial intelligence lab, and continues to work with them today. Her company employs technology students, as well as marketing students from the college and the Toronto School of Management.
"Someday I want to work directly with colleges, because at Connex we want to empower everyone to be an entrepreneur.  We encourage everyone on the Connex platform to have their own business."
The company continues to innovate. This summer, ConnexHealth will launch its newest product, ConnexLearn. The platform will provide online training – one stream for autism therapy for parents, caregivers, school teachers and early childhood educators, another stream will be PSW micro-credentials.
Medha says she had no idea when she entered nursing school that she would graduate, work a few years in hospitals, pharmacies and as a PSW supervisor, and then go on to launch a healthcare technology company at the age of 32. But she's happy she's able to help as many people as possible.
Her advice to nursing students is to think beyond traditional nursing opportunities, and be true to themselves.
"Nursing is an amazing field. With the amount of things you can do, you just have to see where your heart is. If your heart's in it, if you're passionate about it, things just fall in place."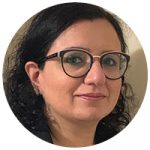 Medha Saraiya is an innovator who, after graduating from nursing as a mature student, is now working with artificial intelligence to match patients to caregivers. She spoke of the importance of pivoting a newly-formed business as the pandemic first hit.
A Health Policy Leader
Samantha Salatino, RPN
Oak Valley Health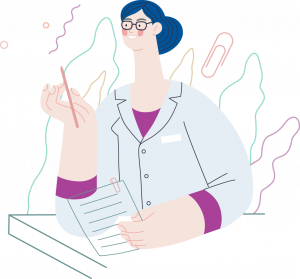 As the Accreditation Lead at Oak Valley Health in the Quality and Patient Safety, Samantha leads the organization in the accreditation process.
Samantha was first exposed to the accreditation process as a frontline RPN, while working at William Osler Health System. In addition she's also on the Research Advisory Committee at WeRPN.
After completing her diploma in practical nursing, Samantha says she knew she wanted to continue her education. So she began to research what her next steps would be.
She stumbled upon York University's Bachelor of Health Studies program, where she would be able to study health policy, management, and informatics.
"I was sort of drawn to that. I thought, okay, 'this is a lot longer than what some of the certificates in this specialization would take, but I have to do it.' After speaking to other individuals, including networking with others who had completed the program,  reading descriptions online about the program, I absolutely fell in love with the degree program. I ended up pursuing it, and really enjoyed it.," she says.
Samantha graduated from York with honours and did a specialized honours in healthcare management.
"It's a great feeling when your patients ask 'are you going to be my nurse tomorrow? Because I really want you to be.' And I loved having that impact on people. I knew I wanted to continue to make a positive impact in the healthcare system, and wanted to continue my education, so it inspired me to continue my education in my undergraduate degree."
After taking a quality improvement course at York University, and working on quality improvement projects in healthcare organizations,  she really enjoyed the type of work she was doing. She then enrolled in a Masters of Science in Healthcare Quality program at Queen's University. She is in her last course for the degree and will be graduating this year.
As a nursing student, Samantha says she was always curious – and looking for ways to improve processes for better, more efficient patient care. Even in her first nursing placement, she noticed an inefficiency and ended up working with the facility on a quality improvement project during her clinical placement.
Her advice to the practical nurses she speaks to today is be curious, ask questions, and network with others – you may stumble upon an area in healthcare or nursing you hadn't known about, but would fall in love with and be passionate win too.
"There are endless opportunities as a nurse. There is not just the clinical aspect of nursing that people think of immediately when they think of nursing. There are nurses in so many different roles."
Learning about all these different roles requires research.
"What I did was I looked at the websites of every single school, college, and university that I was interested in, examining their health care programs after completing my Practical Nursing diploma. I scrolled through many different schools. My family has been a huge support in my education, and my mom encouraged me to talk to several other nurses as well to get their insight. I spoke with other staff members to get a sense of their thoughts on the different types of nursing."
"I had great role models, who I saw as amazing leaders. And I knew I wanted to also be a great leader like them, and continue to make a positive impact in healthcare."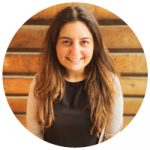 Samantha Salatino is a health policy leader who is looking to improve the quality of patient care through research and accreditation. About to graduate with a Masters in Healthcare Quality, she wants to have a greater impact and believes nurses should research all options and find what is best for them.
An Educator
Anita Plunkett, RPN
PSW Lead/QA Coordinator, Adult and Continuing Education in Ontario School Board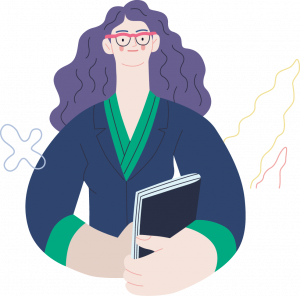 Being a champion for school board adult PSW education and its graduates is appropriate for Anita Plunkett, who began her own nursing education in her forties. 
As the PSW lead and quality assurance coordinator for all school board programs in the province, she helps with program development to meet provincial training standards. She also advocates for school board PSW programs, the role of PSWs, and she meets with different ministries, including the Ministry of Health and Long Term Care, as well as the Ministry of Education. She was a part of the advisory group  that developed the province's four-year staffing plan for long term care. 
After a number of businesses, one marriage, and three children later, Anita began work as a PSW in long term care and community care. After a few years, she decided she wanted to do more. So she bridged on to do her practical nursing education as an adult learner. 
Eighteen years later, she's grateful she made the career move, as it provides so much opportunity and different fields, including mental health, hospital, long term care, and other areas.
"I did clinical nursing, including staying in long-term care and community care, as well as taking my advanced and diabetic foot care training and starting my own businesses. I was even signed up to do my advanced wound care practice training because I thought wounds were where I was going to land. The messier, the dirtier, the more complicated the better."
Messy wounds might have been calling Anita, but it was an opportunity as a PSW instructor with the Catholic District School Board of Eastern Ontario that caught her eye 11 years ago.
"I thought, 'well that's really interesting.' So I applied and was offered a position and fell in love with education. I knew I liked to teach, but being in the classroom day to day with students was so rewarding; and with most school board programs – the instructors do it all. They do the theory, the labs, and then the clinical supervision. Most school board PSW programs are really a niche of adult learners, Anita explained. 
For a woman who in her twenties 'didn't feel smart enough' to go into nursing, she says she understands how students entering a new program might be feeling.
"I know what it's like to feel you're academically not prepared, or that your whole perspective on how intelligent you are or how well you're going to do in the future could be based on your four years of high school."
Anita's most recent career pivot was one helped design herself a year ago. When the pandemic hit, she realized the increased need in advocacy for school board PSW programs as well as the need to develop a solid quality assurance process. As a proud graduate of a school board PSW program who graduated to attend an RPN program, she and another volunteer colleague developed the job description for a full time advocacy role. After applying and going through the interview process, she was selected. 
Today, she's busier than ever working with provincial ministries and school board programs. 
"The job is about looking at education for adult learners and health care, connecting with other organizations, asking how we can better serve the communities we're in? How do we support the learners? How do we better liaise with the Ministries?
When asked about advice she'd offer to current RPN students or recent graduates, she says she'd tell them to just soak it all in. 
"The education part can be a bit of a whirlwind. I'd say just take that moment for the dust to settle and see what opportunities are out there. Something may come along your path that you weren't even aware of."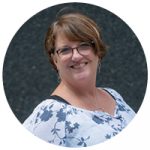 Anita Plunkett is an educator who works with the province to ensure educational standards are addressed. She also helps PSWs transition to RPN programs. Being told she wasn't 'academic' has helped her empathize with her mature students' insecurities.
An Entrepreneur
Erin King, RPN
CEO of Feet for Life Medical Food Care Ltd, Author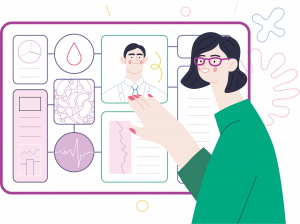 Erin King's journey into the nursing sub-discipline of medical foot and lower limb care began with a kick. A lot of kicks, actually.
She was about to graduate nursing school, and was working in a long term care facility. It was the first foot wound she had treated. Her first foot patient was kicking her the whole time she was treating the wound.
Erin knew the importance of caring for feet and lower limbs – particularly among an aging population. But she didn't feel confident in the area, and took postgraduate studies in diabetic foot care, laser, shockwave and orthotic therapies, analysis, biomechanics of the lower limb, compression therapies, wound care, and reflexology. She also started to work on family and friends.
Then, 22 years ago, she opened her own business. Feet for Life Medical Foot Care in Barrie, ON is a private clinic that marries Erin's passion for caring for her patients with an entrepreneurial spirit that runs deep in her family. 
"I come from a long line of entrepreneurs. My grandparents, my own parents, even my brothers are entrepreneurs."
Erin found that the long-term care institutions she was working at limited how she could treat her patients. 
"In the public system, you're often overloaded with large patient loads. That can compromise care. And it's not because you don't want to deliver really good care. It's just you simply can't."
The public health care system can also be prescriptive in the way patients are treated, she explains. A wound has to be treated a certain way, with a particular dressing. Erin says she found that frustrating, especially when she felt there might be a better way to treat the patient. 
"So for me, I just had to start my own business and have my own practice," she says. "This way I can offer patients superior products and get them better, faster."
Four years ago, Erin opened an educational division of the business, the Feet For Life School of Podortho Nursing, which offers specialization in foot and lower limb care for RPNs and RNs. She wrote the textbook that is part of the curriculum. As a nursing entrepreneur, she acknowledges that launching a business can be scary, but worth the reward.
"My philosophy has always been 'if you build it, they will come.' If you're offering good care and quality services, they'll keep coming to you. Foot and lower limb care is a significant need within our communities everywhere," she says.
Erin is also quick to point out that her training as a practical nurse means she is able to look beyond feet and lower limbs when working with clients. 
"Nursing prepares us to understand every system in the body and what types of care plans we can create for our clients. We're not just looking at the foot in the lower limb. We're encompassing the whole patient," she says.
"For example, when a patient comes in, we go through the medication list because we have that knowledge from our pharmaceutical learnings. If I see someone on Lipitor, I'm like, yes, they've got high cholesterol, which tends to compromise the lower limb integrity and the circulation of the lower limb. That helps me determine what's going on in the whole body. We provide more of a whole patient care approach."
Decades after opening her doors, Erin still has some of her original clients coming back. She says they have become almost like family. 
"You gain a good sense of community and you feel really appreciated in the work that you're doing," she says.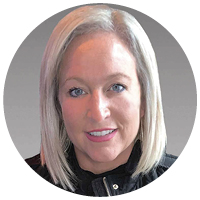 Erin King owns a clinic that specializes in foot and lower limb health. She has also opened a school of podortho nursing challenging students to take their nursing careers to the next level, like she has.
A Clinical Researcher
Barbara Ward-Dagnon, RPN, CCRP
CEO of Medicor Research Inc.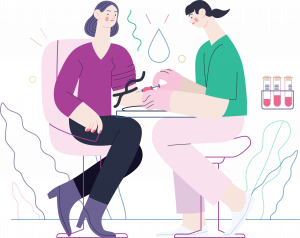 To say that Barb Ward-Dagnon likes a challenge is an understatement.
While working for a general physician's office two decades ago, the doctor asked her to take a look at a proposal to run clinical trials and give it some thought. She thought it was a great idea, and from there, her life as a clinical researcher began.
But when the doctor retired, Barb knew the need wasn't going away. She saw a business opportunity, and at the age of 43,  she launched Medicor – with a team of one. 
"I started with no money, so I did it all," she says. "I did everything from bringing in new studies, signing on new doctors, writing all the policies and procedures, recruiting and seeing patients, drawing blood, processing and shipping it, completing all the paperwork, and the regulatory pieces."
All of it came from a determination to succeed, she says.
"When you're starting your own business you can't have any fear, and you can't have any doubt. You have to just put on the blindfold and go for it."
Seventeen years later, Sudbury-based Medicor has grown to a team of eight permanent, full-time employees, and four people who work part-time. In addition, the company takes on students and internships from a nearby university. She laughs and admits, "We have a lot of different things going on."
Barb credits the variety of skills that nursing provided for setting her up for success. One of the jobs Barb took after graduation was as a clinical researcher, allowing her to gain experience drawing blood, running ECG monitors, spirometry and some diagnostics. Sprinkle in some experience running businesses outside of nursing and she knew she could wear many hats. But the opportunity of launching Medicor excited her.
Two years ago, Barb's plans to expand the business to North Bay were put on hold. It wasn't prudent to open up a new clinic while in a pandemic lockdown, she explains.
The pandemic also made things challenging for how she ran the business. Patient and staff safety was always the top goal – and challenging –  especially with an unknown virus that carried a lot of unknowns in early 2020.
"We didn't really know what we were dealing with. Some of the patients I'm dealing with are healthy, but some are immunocompromised. And you can't just stop a drug study. 
These patients need to be treated. So we were constantly looking for different ways to see patients, but not in person."
In some cases this meant telemedicine, and using cellphones for dermatologists to do assessments. 
Barb says even as a clinical research CEO, she has always kept her nursing license up to date. At first it was so she could always go back to nursing if she had to. 
"And thank goodness, because right now I have two big vaccine studies going on and I'm the one giving the injections," she says.
Being a clinical researcher and business owner is one of the many things Barb feels practical nurses can do with their degree.
"There's a very wide range of things we can do as an RPN. It's good for a nurse to get as many different experiences as they can to see what speaks to them, because it is really broad. What's important is just to see what interests you, because it's wide open right now. If you took a job on a medical floor in the hospital and it's not speaking to you. Be creative and look elsewhere. You could even start your own business, like me.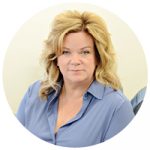 Barb Ward-Dagnon is a successful clinical researcher and healthcare entrepreneur. Barb believes her success is due to the variety of skills
she picked up during her nursing education, and that nursing brings
with it a world of possibility.
An Activist
Sharon Hunter, RPN IIWCC SWAN
WeRPN Board of Directors- Region 5
Sharon Hunter found her voice early in life, speaking up on issues that mattered to her. Today, she uses that voice to represent nurses and share their concerns.
As a child, she would enter public speaking competitions in grade school. Then in high school she took part in debates and spoke to the media on various issues – like offering a student perspective on a teachers' strike. In college, she was a member of the student board of directors, working to ensure nursing students had a seat at the table.
"I've just always been the person who had a lot to say, and I believe we have to do what's right, and sometimes that requires someone like me who has a big voice and a little bit of courage. I can be brave and bring it to someone's attention, when others might not feel as brave."
As a member of the Board of Directors for WeRPN, representing nurses in the Southeastern Ontario and Champlain region, Sharon says she is an advocate for nurses in the region. 
"RPNs are looking for an action plan. Too often when we look at problems, we look for solutions that bring instant gratification. And in a situation like a pandemic, in a situation of burnout for nurses, long hours and staffing shortages, this isn't a short game. There isn't an immediate solution. I'm hearing from my colleagues that they want to know what steps employers are taking to be able to help with nursing retention, to be able to address shortages in staffing, and to be able to address wage disparity."
Sharon says she stays connected to RPNs in her region through social media, reaching out to most of them through Facebook, LinkedIn, Twitter and Instagram (You can find Sharon on Instagram @hunterhuntfordchow and on Twitter at @butternut79).  
When the pandemic began, Sharon says she and a lot of her nursing colleagues would use social media to interact and share information. For those in community nursing, she explains, it was a natural progression from the virtual visits they were doing with some patients. 
"My last regional report to the WeRPN board had more depth to it and was much more representative of Champlain & Southeast because I was able to reach more nurses thanks to social media."
Sharon says nurses are telling her they are looking for education and mentorship. 
"During the pandemic, because patient care became front and centre, the education and mentorship of nurses became something that was put on the back burner. And that's what nurses are now looking for." 
Sharon says her advocacy work is the spark that drives her. She encourages those on her team of 30 nurses between Belleville and Kingston to find what it is that excites them in nursing.
"What I learned along my career is that to stay in nursing and to enjoy nursing, you're going to need to find what you're passionate about. So don't be discouraged if when you take your first job is not lighting the spark. Keep learning and you're going to find the thing that ignites the spark inside you."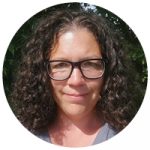 Sharon Hunter is an activist who uses social media to connect with and
be the voice for RPNs in the Champlain and Southeast region of Ontario, discussing the issues they face in the workplace. She believes in being
brave and speaking out on issues that matter, when others might not have
the courage to speak their concerns.
An Association Manager
Kimberley Reid, RPN
Case Manager Coordinator at BEGIN, WeRPN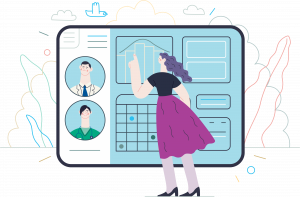 A change in career can be unexpected and scary, but the risk can pay off.
After almost a decade as an ER nurse, Kimberley Reid found herself in a full-time job she loved. She excelled in the role, and put her skills into applying herself the best she could to forward her career.  She thought she was going to retire from the job. 
And then Covid hit. 
Everything changed – but with it, came opportunity. Kimberley found herself leaving her full time job for a six-month contract in a new program.
The pandemic highlighted a gap in care where support is needed, explains. She decided she wanted to help with the fledgling program, which aims to address that gap. At the same time, she knew leaving a full-time job for a short-term program was a risk.
"I took the risk because how else would I get the opportunity where you're getting paid essentially to learn a new skill? There was some risk required, but I was willing to do that."
Two years later, Kimberley is still in the role and says it's one of the best decisions she has made in her career. 
Today, she loves being a case manager for WeRPN's BEGIN program, which has her supporting candidates as they apply for full tuition to become RNs and RPNs in sectors of need for long term care and home and community care – In return for tuition, the programs asks candidates for return of service for each year they receive funding. 
As a caseworker, Kimberley's role isn't just to help with applications and determine whether or not candidates get a reimbursement. She's also coaching and guiding them through their path to their new profession – assisting them with finding a long term care and community care job, supporting them with exam preparations.
All case managers were nurses themselves and are walking with the candidates early in their careers. "This helps with understanding the program, the requirements, and we can support them on multiple levels." 
As someone who worked in long term care for the first five years of her career, Kimberley says it was working with Alzheimers' patients that really taught her patience, and she shares that with the people she works with.
Kimberley says it was the openness with which she approached her RPN education at Humber College that prepared her for the role she has today. 
"Going through school and having these clinical placements and all these opportunities, it really exposes you to a wider variety. You meet your different professors along the way. It's important to ask questions, find out how they got into their role, how they got their interest in what they're currently doing," she says.
That exposure to opportunity in school opened her eyes to the profession, and the different ways to apply her learning. After asking a lot of questions, being open-minded and staying positive, Kimberley found it was possible to do more with your RPN. And she wants to share that with others on their journey.
"There's a lot of negativity in the nursing profession right now. My key thing is really staying positive, staying true to yourself and staying driven, because if there's a will, there's a way and I can really speak to that. I'm living proof of that," she says. 
"If you really apply yourself and put yourself in positions where you can take risks with your career and be open to learning, there are endless opportunities."'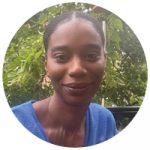 Kimberley Reid is an association manager who helps nursing students find the funds and support they need to pursue nursing programs. She's proof that taking a risk in your career can lead to greater rewards.