The following is a personal account from an RPN. Her heart-wrenching story of loss and grief are stark reminders of the sacrifices nurses and other frontline workers make in the line of duty.
In the summer of 2020, after years of dealing with infertility, waitlists and pandemic delays, my husband and I had the opportunity to complete our first round of in vitro fertilization (IVF).
I remember feeling a huge sense of relief and excitement about finally getting the chance to have a family, but I was also struck with a sense of fear due to this novel virus that we knew very little about. Was it the right time to go ahead with IVF during a pandemic? I am a Registered Practical Nurse who works in an acute-care hospital, and my husband works in construction, both professions with a high risk of exposure.
At the time, we had just got out of the first wave of the pandemic. There was minimal information about the risks and consequences of acquiring COVID-19 while pregnant to help us make an informed decision.
Equipped with the best information we had access to, we decided to go ahead with the treatment since we had already waited and tried for so long to have a family.
As long as I was careful, I felt confident everything would be okay.  I also knew that as a high-risk pregnancy, I would be followed closely by maternal-fetal medicine.  In August, shortly after undergoing the procedure, we learned our treatment was successful.
I will never forget how happy we were to be pregnant finally.
The beginning of the pregnancy went smoothly. It wasn't ideal to attend my appointments alone due to COVID protocols, but I generally felt good. At work, we had access to proper PPE, and I worked in a part of the hospital that was a distance from high-risk areas, so I felt relatively safe.
Then in the fall, our hospital experienced a COVID-19 outbreak with all floors affected and several patients and staff infected. During that time, I was extremely anxious and scared to go to work each day. I felt a huge personal dilemma. On the one hand, I was proud to be a nurse, and I wanted to support my patients during this time. But on the other, I was terrified of getting sick and the impact it might have. I tried my best to be strong for my patients even though inside I was screaming, "I'm scared, too."
I was 18 weeks along, and I discussed my fear and concerns with my OB.  At the time, experts thought the risk of severe illness for most pregnant women was low, with most pregnant women being asymptomatic or displaying only mild to moderate symptoms.  I was advised that I could continue to work until 28 weeks, when the risk of complications would increase. I trusted my health care provider and continued to go to work.
The illness
One day, not long after working a 16-hour shift, I developed nasal congestion, an irritated throat, and I couldn't taste or smell anything. I immediately booked an appointment to get tested for COVID-19 and was devastated when my results returned positive.
I was terrified for my baby and for myself. I also worried about who else may be infected as well. I immediately informed the local health unit and my OB. I kept running over the details of my final shifts in my mind. I couldn't wrap my mind around how I contracted the virus. We were wearing PPE at all times, and there was no breach. All the patients had been tested, and none were positive.
The only thing I could think of was it might have happened while on break when I had to take my PPE off multiple times to eat. Did I forget to wash my hands after taking off my mask or not wash them well enough? The questions continue to swirl in my mind. I will never know how that happened.
My 20-week anatomy scan was delayed while I was in quarantine. Once cleared, I attended the appointment and was excited to learn we were having a boy. He was moving around a lot, so they had a hard time visualizing everything to say with certainty that everything was okay.
When I returned for a follow-up, they noticed my cervix was shortening, which is not expected to happen in pregnancy until about 32 to 36 weeks. My OB didn't seem concerned and believed the shortening was likely due to the viral infection's stress on my body. They would continue to monitor me. At the time, I felt stressed about what was going on with body and was also still struggling with lingering symptoms from COVID, such as fatigue, headaches, body aches, and loss of smell. I asked my family doctor to write me off on leave until I felt better and more comfortable returning to work.
The complications
A week later, my ultrasound revealed that our son's anatomy appeared normal, but my cervix had shortened even more to 2.5 cm. While my doctor didn't recommend an intervention, I knew something wasn't right, and I remember fear started sinking in. I felt tired all the time and pelvic pressure. My doctor kept reassuring me everything was fine and thought the pressure was due to our baby just sitting low.  My cervix was still completely closed.
One night the following week, I had a lot of pelvic, rectal pressure, diarrhea, and I started spotting. I went to OB triage- the emergency department for pregnant women. They performed a speculum exam and confirmed I was not having contractions. When I returned the next day for a follow-up, my cervix had shortened more, it was 2.4 cm, but it was still completely closed. The next day I felt the same as far as pressure, fatigue and discomfort. Later that evening, the pressure got worse. I started having pain and pressure that came and went. A few hours later, it was so bad I could no longer walk or stand. I knew then I was in labour.
We hurried to OB triage. They rushed me to labour and delivery and put in an IV to run magnesium sulphate to help slow down contractions and prevent injuries to my son's brain. They also gave an IM injection of a steroid to help our son's lungs develop if he came early.
Within minutes, my water broke, my contractions and pain got worse and were coming every 30 seconds. Before long, I was in the OR, where the doctor told us the odds of our son surviving and the risks of him having disabilities due to his prematurity. I could barely hear or respond to anything the doctor said because of the pain.
Suddenly, I felt the urge to push. I delivered our son at 23 weeks, four days. He only weighed 1 pound and 4.5 ounces. We told the doctors to do everything they could to care for him. At that time, all I knew was I loved him so much, and I would do anything to protect him. They took him away from me instantly to put him in intensive care.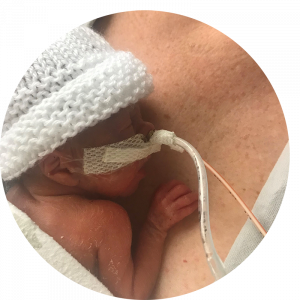 My son, now and forever
My beautiful son, whom we named Miguel, was 23 weeks when he was born. No organs are fully developed at that time, so he needed to be intubated and on a ventilator, IV hydration and nutrition, a feeding tube, and IV medication. The doctors and nurses told me that he had a 50 percent chance of survival and greater than 50 percent chance of having disabilities. I was told he would likely be in the NICU for approximately five to six months.
The weeks he spent in the NICU were a traumatic rollercoaster ride of good and bad news, but we still felt blessed to have him and spend every day and night with him.
A few days after he was born, he developed a bilateral intraventricular hemorrhage. Due to how unstable he was, we couldn't hold him, but we could touch his hand and help change his diaper three times a day. After some time, he developed a lung infection from the ventilator and quickly went septic. Septicemia happened rapidly and couldn't be controlled by aggressive antibiotics. The infection spread to all of his organs, causing multi-system failure. The day before he passed, we were able to hold him in our arms all day and night. I am very grateful for the time we spent together as a family. In my heart, I know he felt our love for him. He passed away at 5 a.m. on Jan. 25, 2021.
The day we lost him was the worst day of my life. I had never felt love like that before, and now our beautiful son was gone. Afterwards, I remember feeling so much anger, deep sadness, and I was looking for anyone and everyone to blame, including myself. I was yearning for an answer as to how something so terrible could happen. I eventually came to realize that I did everything I could to protect him.
Making sense of the loss
During my six-week postpartum follow-up, I received the results from pathology testing done on my placenta to determine the cause of the pre-term birth. The results showed that my placenta had developed blood clots, stopped growing and was small for gestational age. I have received a few opinions from several specialists.  One who attributed the clots to me acquiring COVID-19 while pregnant. Others who believe that COVID-19 was the likely cause but couldn't say for certain. I thought that knowing what caused this tragedy would make us feel better, but it stirred up many other emotions. COVID-19 has taken so much from so many people.
As time goes on, we have much more data about the impacts of COVID to help guide decision-making about health and safety protocols and vaccination rollout. In reflecting on my own experience, I think more needs to be done to protect our vulnerable population, including pregnant women. While it's positive that pregnant women have now been prioritized to receive a vaccination, they should also be taken more seriously and followed closely by their health care provider, especially if they acquired COVID-19 while pregnant.
The road ahead
I also believe more information needs to be made public about the long-term complications for those who have gotten sick. People who had COVID-19 are at a high risk of having long-term heart and lung disease and neurological and mental health disorders. In my case, on top of grieving the loss of my son, I am getting tests done to understand the physical damage that COVID has caused to my body. If people were more aware of long-term complications, it might help raise the importance of following health and safety guidelines.
It's unclear when this pandemic will end. That's why it remains so important to follow public health guidelines and take advantage of vaccines that are now available to us. We know the complications and risk of death associated with getting COVID-19 is far worse than the risks of the vaccines. We also now know that women who get vaccinated while pregnant pass antibodies to their babies. As health care providers, we need to educate ourselves and stay current on the latest studies and guidelines to help inform others.
I hope that sharing our story will honour our son and help raise awareness about the importance of ensuring the safety of those working on the front lines, especially pregnant women or others with underlying health conditions.