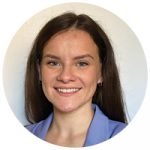 In her first year of nursing school, Lydia Mead saw a posting for a WeRPN board member position. Now working as an RPN in in-patient surgery, she began her one-year term as Student Representative in October 2021. 
Despite her heavy workload, Lydia knew being a WeRPN board member would be an important role. 
Having graduated from Conestoga College as recently as May 2022, she's keenly aware of the challenges nursing students face—especially those learning to practice during a pandemic. 
"Online courses were very difficult for many people, and for those living off campus, it could be extremely isolating. Luckily my cohort had in-person placements, but some did not—it's demoralizing to work so hard and to be faced with so many obstacles," says Mead. 
In a time when the nursing profession is fraught with staff shortages, job dissatisfaction and burnout, it's now more important than ever to encourage and assist incoming students. 
The Student Representative board member position presented the perfect opportunity for Lydia to advocate for other nursing students. 
In this role, she regularly talks with students and faculty to get their perspectives on issues facing the nursing profession, changes in colleges, new programs and funding opportunities. 
These insights are then assembled into a report, along with her own guidelines and recommendations, and presented to other board members at each quarterly meeting. 
The Student Representative is also a key decision maker for the allocation of the Education Trust Fund (ETF). Every year, WeRPN dedicates one dollar from every membership to the 
Fund to offer practical nursing student members access to educational bursaries valued at $1000. Reading scholarship essays, discussing the nominations and determining the recipients has been a way for Lydia to uplift fellow nursing students. But as her term as a board member comes to an end, so does her time as a student. While practicing with a temporary license, Lydia has been studying for the REx-PN exam. This is a new Canadian Practical Nurse exam developed for the British Columbia College of Nurses and Midwives (BCCNM) and the College of Nurses of Ontario (CNO). This new entry to practice exam became effective on January 4, 2022, for those applying to become an RPN in Ontario. It tests for the knowledge, skills and judgment nurses need throughout their careers and improves exam writers' experience by giving year-round access to the exam and faster results. Mead plans to keep working in in-patient surgery, where RPNs are used to their full scope and are constantly challenged with new and different cases. "I'm always learning. Every day I see something new," said Mead. Most notably, she's been struck by how collaborative the work can be and how willing her coworkers are to help. Even while working through an unrelenting pandemic, her colleagues always offer thoughtful advice.
This sense of compassion and drive has made Lydia an important addition to WeRPN's board of directors.