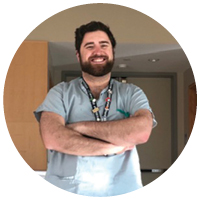 Kevin started his career in healthcare as a Personal Support Worker (PSW). In 2013, he bridged to the  RPN role after graduating from Niagara College and began working at the Hamilton Health Sciences (HHS).
Kevin is committed to continuous professional growth. Over his career, he has gained several professional certifications such as Complex Wound Care and the Critical Practice Orientation Certificate that enables him to work in acute areas within the hospital, such as cardiac and vascular programs. His ultimate goal is to participate in at least one professional and continuous educational workshop a year. 
Kevin is also a leader and champion for the RPN role. Over the past few years, he has been involved in developing  a role for RPNs in the Cardiac Ambulatory Clinic at his hospital. He has also developed processes for the RPN role  in both the Comprehensive Cardiology Clinic and the  Heart Function Clinic. 
 As a WeRPN Ambassador, Kevin helps educate RPNs at his workplace about the mandate and benefits of getting involved in their professional association. 
 "As an RPN, I am interested in political affairs, particularly related to healthcare and the nursing profession. This is what got me involved in the ambassador program. After learning more about the work that WeRPN does on behalf of RPNs in Ontario, I believe it is important to promote RPN practice and showcase the valuable contributions they bring to our health system and patient care." 
 He believes that RPNs have a lot to offer and are an asset  in all health settings.
"RPNs bring with them a wealth of knowledge they can successfully apply to real-world situations," Kevin said. "Being an RPN, I am always educating other members within the healthcare team about our role and scope of practice. There are some healthcare providers that have never worked with RPNs and really don't know what the scope of practice entails. As a nurse, I am always happy to teach other people about the scope of practice of RPNs."
Kevin had the following advice for new RPNs starting out in their nursing career. "Never be afraid to try something new and always keep striving to be better than the day before. Nursing is a versatile and challenging career that has so many specialties and paths to follow. You truly never know where you could end up as long as you keep an open mind. Don't be afraid to show your passion, be proud of how far you have come. It is an exciting time right now to be a nurse."