Steven Cedrone could be any patient. He suffered a spinal cord injury in April and was taken to the emergency room  of an Ontario hospital with severe back pain.
Although he first arrived at the ER with normal feeling and function in his legs, bladder and bowels, he slowly started realizing things were getting worse. He waited for 15 hours for diagnosis and surgery, at points waiting in a hallway with morphine to help him with the pain. 
"I feel like the time I spent in the hallway waiting to see an ER doctor (one hour), the six hours waiting for a doctor to diagnose me and then the eight hours before a surgeon was available created delays that could have been the difference between a full recovery and ending up as a paraplegic with non-functional neurogenic bladder and bowel disorder. Minutes can make a difference in cases like mine, let alone hours," Cedrone says. 
His life forever changed, Cedrone spent 84 days after his surgery recovering in hospital. 
"During my 84-day stay in hospital, I was touched by many health care professionals working extremely hard in a very under-resourced hospital system." 
Cedrone says he could see that the hard-working nurses were literally run off their feet trying to keep up the pace. 
"The care I received was extremely delayed and it always felt like they were using a garden hose to put out a raging forest fire," he says. 
Cedrone says he had to wait more than 40 minutes for a bedpan on multiple occasions, only to be told there were no nurses available, and that he should defecate in his bed and would be cleaned up later. He also faced having to wait more than two hours for assistance from nursing staff to help him eat his meals. 
When he did receive care, he says "the nurses who cared for me were amazing. They were genuinely caring and dedicated to their profession. They always tried to give me the best care they could in the one minute of time they had to spend with me. They always seemed extremely exhausted, running on caffeine and no sleep." 
He was so devastated by the care he received "from a major hospital in a major Ontario city" that he had to speak out— especially when he saw Ontario Premier Doug Ford say at an early August, 2022 press conference that nine out of 10 patients are treated in a reasonable, timely manner. 
"I'm absolutely astounded," Cedrone began his email to the Premier, one he shared publicly to raise awareness of his experience while spending 84 days in hospital. 
"In that time, I had the pleasure of being cared for by many nurses in multiple units at the hospital and rehab facilities I was admitted to. I can tell you without a doubt that we are experiencing a healthcare crisis and the service to me as a patient was absolutely atrocious during that time," he continued. 
"It was no fault of the nursing staff; it was the fault of the hospital and rehab facilities not being able to adequately staff the shifts. There wasn't a day that went by that nurses weren't run off their feet and had nine-to-one patient ratios as a regular occurrence." 
He finished his letter to the Premier by stating that Ontario health care has "a massive problem" and that the province needs to get to work fixing it, rather than pointing fingers. 
Sadly, Cedrone's experience is not unique. 
This summer, ER shutdowns across Ontario—as many as 20 ERs were reportedly closed over the August long weekend—have brought attention to the conditions nurses have been working under since the onset of the pandemic. 
Ontario Premier Doug Ford and Minister of Health Sylvia Jones have argued that ER closures are not unprecedented, and many are due to nurses taking vacation time. 
Those who work in health care know that's not the case. In a comprehensive WeRPN study highlighting unsafe workloads in hospitals are putting patients at risk, nearly seven in 10 nurses said they are unable to provide adequate care due to lack of available time and resources.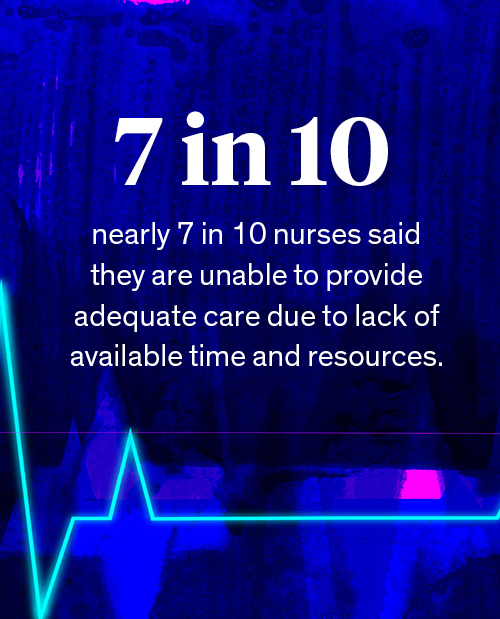 "Alarmingly, this is now being normalized," said Dianne Martin, chief executive officer, WeRPN when the report was released.
The comprehensive survey, conducted in May 2022 and entitled "The State of Nursing in Ontario: A 2022 Review," polled more than 760 RPNs in Ontario. It is a follow-up study from a December 2020 survey that has enabled WeRPN to measure the conditions of provincial healthcare systems through the eyes of those caring for the public on the front lines every day. 
The study also highlighted a huge potential to lose almost half the nursing workforce. Nearly one in two RPNs said they were considering leaving this critical profession; this has risen to 47 per cent from 34 per cent in 2020. 
The Ontario Hospital Association began warning of the decline in hospital patient care in February 2022. 
"Over the past two years, Ontario's hospitals have continued to step up and serve as the anchor of the pandemic response. Organizations, leaders and teams have demonstrated extraordinary dedication, innovation and resilience, even under the most punishing conditions. However, hospitals and the health care system entered the pandemic in a state of under-capacity and misaligned resources and services," The OHA stated in a press release. 
While noting that beds have been added to hospitals over the past two years on a time-limited basis to address pandemic needs and to mitigate "hallway health care," the system's capacity is still a serious and growing problem, the association warned six months ago. 
"With the worst of the last wave behind us, now is the time to ensure the health care system is supported in a manner that meets the current and future health care needs of the people of Ontario," Anthony Dale, President and CEO of the Ontario Hospital stated in the news release. "The Government of Ontario has been a strong funding partner with hospitals throughout the COVID-19 pandemic. Now is the time for a dialogue about what's needed to fundamentally strengthen our healthcare system into the future." 
As part of that dialogue, the OHA recommended funding and government policy support to hire at least an additional 10,000 registered nurses and 3,500 registered practical nurses and other critical health care workers over the next five years. 
Fast forward to mid-August, when the provincial government held a press conference to announce changes to a health care system on the brink. 
The Ontario government introduced on August 18 its Plan to Stay Open: Health System Stability and Recovery. The province said the plan further bolsters Ontario's health care workforce, expands innovative models of care and ensures hospital beds are there for patients when they need them. 
"When we released our first Plan to Stay Open in March 2022, we made a promise to build an Ontario that is ready for the challenges of tomorrow because we can no longer accept the status quo," said Jones. "The second phase of our plan will provide the support our health system needs to address the urgent pressures of today while preparing for a potential winter surge so our province and economy can stay open." 
Jones said this next phase of the Plan to Stay Open will add up to 6,000 more health care workers, including nurses and personal support workers, to Ontario's health workforce. She said it will also free up more than 2,500 hospital beds so that "care is there for those who need it," and "expand models of care that provide better, more appropriate care to avoid unnecessary visits to emergency departments." 
Jones continued to detail the five-point strategy to give Ontario health care a shot in the arm at a press conference that day: 
Preserving hospital capacity through Covid-19 testing, vaccine boosters and access to rapid antigen tests

 

Providing 'the right care in the right place' – giving paramedics the flexibility to divert patients from emergency departments to 'reintroduce respite services in long-term care,' community paramedicine for seniors in their homes before going to long-term care

 

Reducing surgical waitlist times by working with hospital partners to identify solutions, including increasing number of OHIP-covered surgical procedures performed at independent health facilities, and investing more to increase surgeries in pediatric hospitals and private clinics covered by OHIP

 

Easing pressure on Emergency Departments by adding 400 physician residents to support a workforce in northern and rural Ontario, working to expedite the registration of doctors, including those from out of province

 

Expanding Ontario's Health Workforce by increasing funding for a supervised practice experience partnership program that will see 400 international nurses gaining experience and language requirements needed; reducing financial barriers so that retired or internationally trained nurses can begin practicing by covering the cost of examination, application and registration fees ($1,500)

 
"The province is aware that agency rates have increased significantly, creating instability for hospitals, long-term care homes and emergency departments. In response, Ontario will engage with our frontline partners to better understand how we can bring stability to hospitals and emergency departments, while protecting quality of care," The press release concluded. 
Reaction to the province's plan was swift. Almost immediately after it was released, a group of senior care advocates and critics warned planned changes to the long-term care sector are a fundamental violation of patient rights. 
The pressure on critical care centres hasn't eased at all. A day after Premier Ford and Minister Jones revealed their plan, another Ontario hospital warned patients to anticipate 'much longer than expected' wait times. 
Dr. Andrew Arcand, Chief of Emergency Medicine at Markham Stouffville Hospital, said the alert to the community was due to a sudden surge in patients, a lack of beds and a shortage of staff. 
A sudden influx of patients left the hospital scavenging for bed, an 'all hands-on deck' call out to staff, and some patients left residing in hallways. 
"Our current state since June has been really difficult and really challenging," Dr. Arcand told CTV News. He stated the hospital was facing staffing shortages due to the high rates of COVID-19. 
Ontario Health data shows on average patients admitted to Markham Stouffville Hospital spent almost 14 hours in the emergency department, with only a third admitted within the province's target time of eight hours. 
Fourteen hours is close to the time that Steven Cedrone waited for his spinal cord surgery once he arrived at an Ontario hospital's Emergency Room. 
" We all need healthcare and we will all have a time in our lives where we need critical healthcare and it's important that these support systems are there and properly functional for us when we need them. We are at a critical point where our system is collapsing. I experienced some of the effects."
Cedrone says government officials such as Premier Ford and Minister Jones need to "stop paying lip service to the public, assuring us that everything is fine—and pointing their fingers elsewhere," he says. 
"They are literally affecting patients' lives like mine and it's cruel. I should never have had the experience I did."