Diverse Specialties, One Heartbeat of Care
Across the sprawling landscape of Ontario, from the bustling heart of Toronto to the far north of the province, thousands of practical nurses start their day with a singular purpose: to care. Their titles and where they work may differ, and their daily routines may seem worlds apart, but at the core of each specialty is an unwavering dedication to patient well-being.
Nursing is far from one-size-fits-all. In this feature, we delve deep into the rich tapestry of nursing specialties that make up the WeRPN community. The surgical nurse working the night shift in a hospital's cardiovascular centre, a nurse working in an ER and correctional services medicine, and a family clinic nurse following patients through all stages of care.  
There are differences in their day-to-day experiences. And there is a harmonious undertone that resonates across them: a desire to care. Every pulse checked, every wound dressed, and every comforting word whispered, echoes a shared commitment, a silent pledge, a nurse's promise.
As we journey through a day in the life of Ontario's nurses, we celebrate their unique stories while uncovering the golden thread that binds them: the heart of care.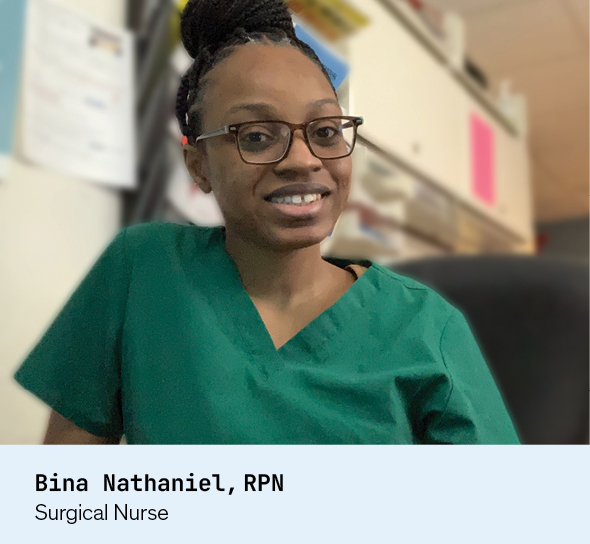 BINA NATHANIEL is a surgical nurse specializing in cardiovascular care at St. Michael's Hospital in Toronto. For her, the quietude of the night is her happy place.
With a genuine love for biology, particularly the human body, Bina felt nursing was the next natural step. From high school courses to her initial career in general medicine, the blend of hands-on work, science, and the profound impact on people's lives captured her heart. When she graduated in 2019, she soon found herself in the chaos of a pandemic, honing her skills and facing challenges she had never anticipated.
But it was while working in cardiovascular surgeries and helping patients facing intense procedures like bypass and amputations that Bina found comfort in the predictable rhythm of the night shift. "I like the fact that there's a little bit more of a routine than there is on day shifts," she admits. 
Bina says night shifts provide her with an opportunity that many nurses on the day shift might envy: time. In the quiet hours, she can truly get to know her patients, diving deeper into their histories and understanding them as individuals, not just case numbers. This human connection, she believes, is therapeutic not just for the patients, but for her as well. 
"I find that with a night shift, because it's a little bit more relaxed, I have that opportunity to actually dive deeper into who the person actually is. Besides just focusing on their diagnosis,"  she says.
This rapport, in turn, can also aid in the treatment and care of patients.
Bina says her career brings satisfaction and challenges. She loves learning about her patients, the proactive approach of her unit at St. Michael's, and the thrill of being constantly on her toes, learning and adapting. 
There are challenges too though, she says. For many of her patients, accepting the gravity of their diagnosis is difficult. Guiding them through this acceptance and helping them understand the severity of their condition is perhaps the most challenging part of her role.
Her dedication to her patients, however, is unwavering. Whether it's explaining the urgency of a procedure, comforting a nervous patient, or simply sharing a quiet conversation in the middle of the night, Bina remains a steadfast presence in their lives.
Like a superhero working through the night, Bina does all this before most people in the bustling city are awake. Bina travels home from her shifts as Toronto rises at 7:30 a.m.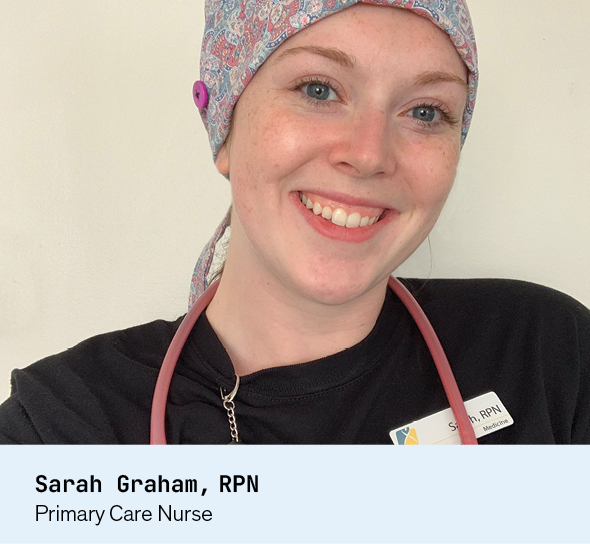 SARAH GRAHAM works in a London, Ontario family health clinic as a registered practical nurse whose commitment to her patients reflects not just her professional dedication but a deeply personal understanding of the significance of care.
Having spent significant time under the care of nurses due to her own health challenges, Sarah understands firsthand the transformative role of a nurse in a patient's life. 
"I've been on the other side of receiving nursing care," Sarah recalls, and said this inspired her to go into nursing. She knows the profound difference a dedicated nurse can make during a hospital stay. 
It was because of these personal experiences, and her grandmother's stories about the profession, she went into nursing. "I always loved listening to my nanny and kind of what she did as a nurse, so it always inspired me."
Working in a family health clinic, Sarah loves that she is responsible for care that spans the entirety of human life, "from pregnancy and birth all the way up to the elderly population."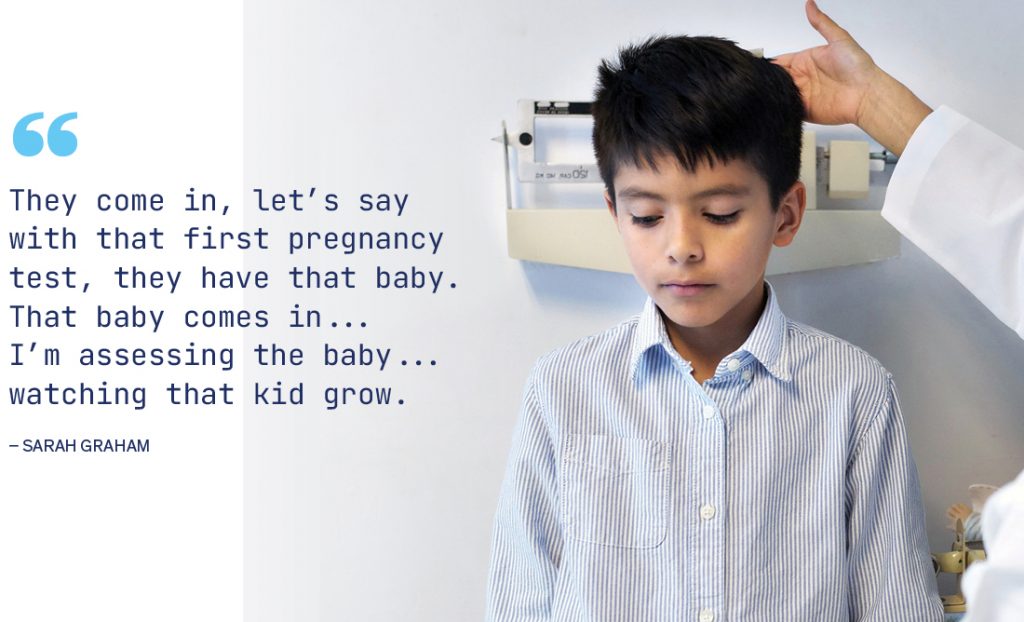 It's the continuity and depth of this connection with her patients that Sarah treasures most. She warmly shares the joy of witnessing life milestones: "They come in, let's say with that first pregnancy test, they have that baby. That baby comes in… I'm assessing the baby… watching that kid grow."
Sarah herself is on maternity leave until early 2024, with her first child, Eleanor. And while she loves being home with her daughter, Sarah says she is looking forward to returning to the clinic.
While her profession is rewarding, it's not without its challenges. "It's busy," Sarah admits, describing the challenge of juggling her many duties that range from administrative tasks, patient care, and helping in the teaching of residents. The role often demands her to be in multiple places at once, but it's a challenge she's embraced with open arms. "I love it," she confesses, "It keeps me on my toes."
Sarah's journey to her current position was neither easy nor straightforward. The competitive nature of nursing roles in clinics, especially for a relatively newer nursing graduate like Sarah, meant she faced several obstacles. Yet, her perseverance and dedication shine through. 
For this role in the family clinic, she underwent four interviews, continually improving with each attempt, before securing her full-time position. "If you're looking for a position and you have a desire… just don't give up on it. It will be yours if you keep working towards it," she advises other nurses.
Sarah's deep connection with her patients goes beyond her professional obligations. Often, she is the reassuring voice on the phone, providing solace to an elderly patient or answering questions for a concerned new mother. As she eloquently puts it, her role means she's "there for you no matter what you're needing to be."
Her patient-centric approach stems from an understanding of the gaps that often exist in patient care. 
"When I was working in the hospital, one of the things that I needed was to see the patients at follow up. I didn't know where my patients ended up. But at the clinic, I have that follow through."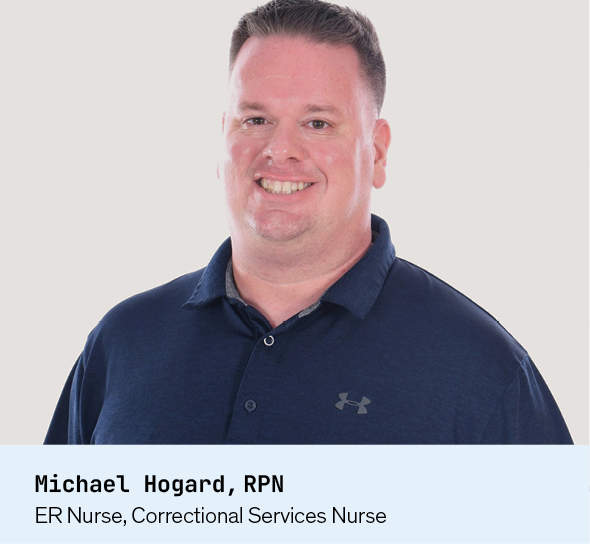 MICHAEL HOGARD juggles two distinct roles defining his life as a nurse in a northern area of the province: Fort Frances.
Michael's passion for healthcare started young. "I remember as a kid, I'd always loved hospitals. So it's something I've always wanted to do," he recalls. 
His childhood dream wasn't just to be any nurse but specifically to serve in hospitals, a vision he successfully turned into reality.
In his 20 years of nursing, Michael has gained experience in various departments from Medical/Surgical to Emergency. But it wasn't until recently that he introduced a new challenge into his career – working in a correctional facility. 
"I've always worked in hospitals until recently. Then I started working at a jail."
His move from a busy hospital in Thunder Bay to smaller establishments in Fort Frances and Rainy River required an adjustment. Michael laughs as he mentions the irony of working in Rainy River, which marks the other end of Yonge Street, known as one of the longest streets originating from Toronto.
However, the real challenge came during the pandemic lockdown. With restrictions on movement between workplaces, Michael had a decision to make. 
"When I was hired at the Fort Frances jail… lockdown happened. I had to choose one facility to work at… so I chose the jail because it was new to me."
But what draws Michael to these diverse roles? "I've always liked the fast pace and I like making people feel better," he explains. The juxtaposition of working in a hospital ER and a jail provides him with varied experiences. 
"Every day is different," he says. "I've always had two jobs because you could work at one place and then go somewhere else."
As well as addressing different medical concerns in the ER and the jail, Michael travels to even more remote locations to work with the Sioux Lookout First Nations Health Authority, focusing on community well-being. 
Michael's days are anything but monotonous.
The distinction between the two environments is stark. "In the jail, no one there is acutely ill… there are different levels of comfort," he emphasizes, touching upon the constant mental recalibration required to shift between the humanitarian concerns of a hospital and the stricter regimen of a jail. There is a different level of comfort for inmates, he explains. 
As someone who has worked shift work his whole life, Michael embraces the irregularities that come with the job. "I don't think I would do well in a nine-to-five job," he says.
Michael is also a council member for the College of Nurses of Ontario, representing the Northwestern Ontario District. He is chair of the discipline and fitness to practise committee. This committee impartially adjudicates allegations of professional misconduct.
"Self regulation, I think, is a privilege because there's other countries where nurses are not self regulated, and I think it's important to be a part of that in this profession," he says. 
He says it's essential that nurses set the standards and policies for other nurses.
Michael advises new nurses to get involved in as many areas of the profession as possible, and to keep learning. He took a course in Adjudication for Administrative Agencies, Boards and Tribunals and a course in Privacy Law and Information Management in Healthcare through Osgoode Hall's Professional Development program. 
"Sign up for courses, get certificates, just get involved if you can," he says.